Anyone who has traveled around the holidays has experienced the game of perfectly timing "the bag grab." There's usually as much shouting as a football huddle, as family members try to direct each other to the group's supposed suitcases, all the while rotating the crowded airline's carousel. Even the most seasoned traveller has inevitably experienced the rollercoaster of emotion that accompanies "the wrong bag grab." Laser accuracy, excitement, euphoria, but eventual embarrassment is not a progression of emotions we wish on our fans … so keep your paws off that stranger's suitcase and check out these artsy cases from around the web.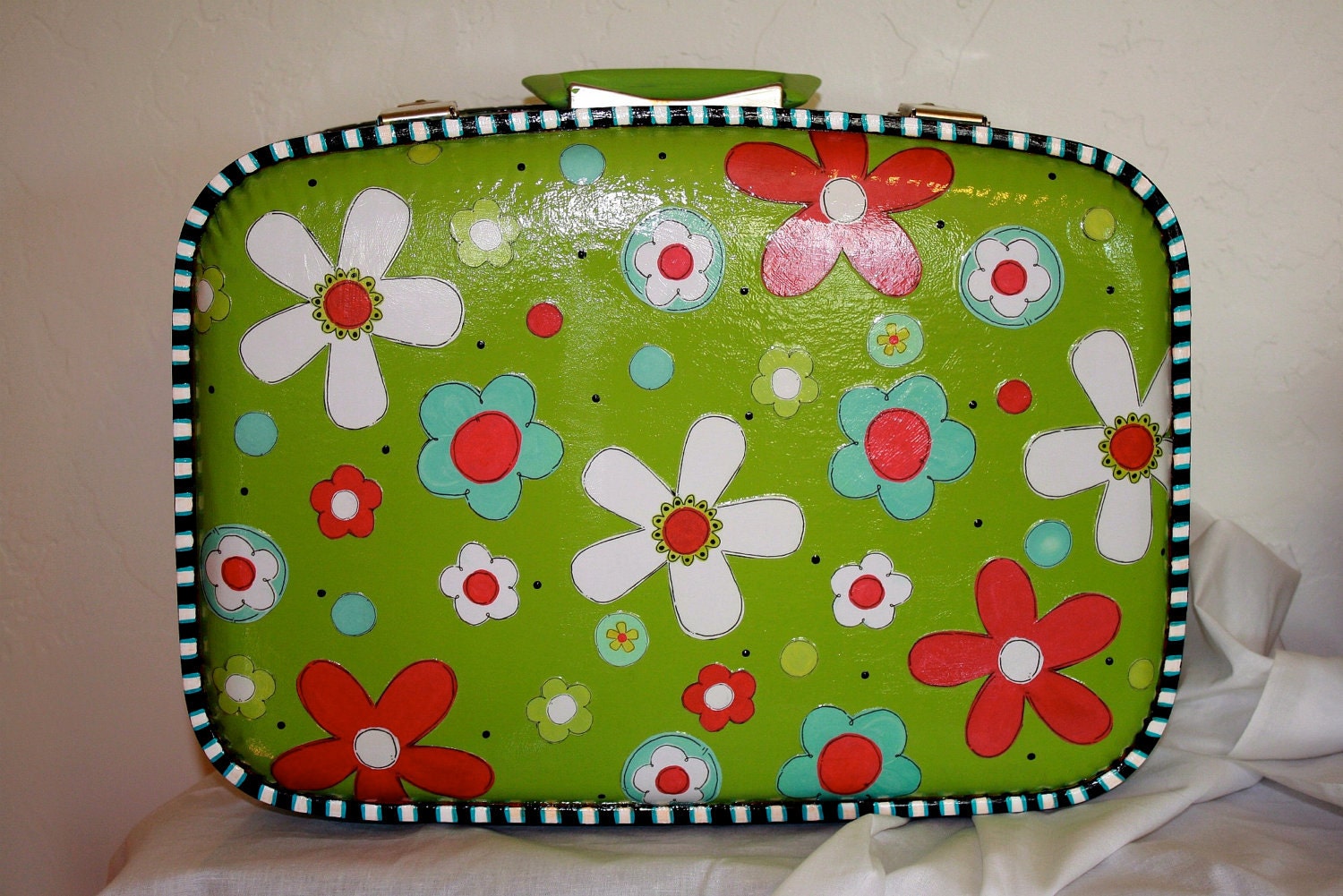 We were particularly inspired by this ReadySetGo upcycled suitcase and wanted to recreate it with our Preval Sprayers!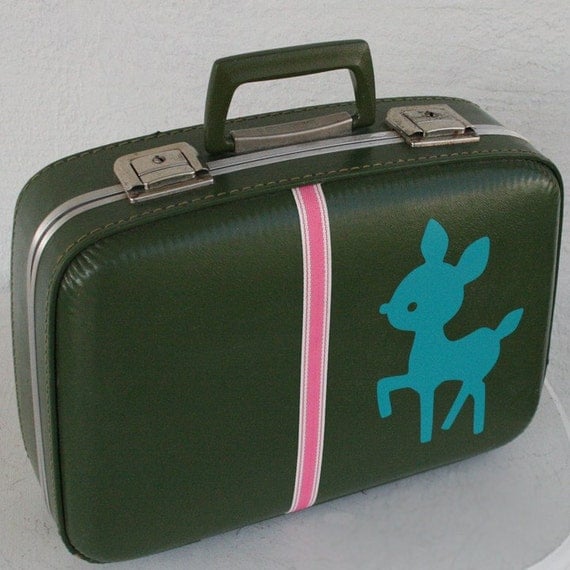 What you'll need:
1 x Preval Sprayer
1 x Hardside leather suitcase
1 x Painters tape
3 x Paint colors
1 x Fawn (or your adorable animal of choice) stencil
Check out last week's anchor stencil DIY for more info on creating your own stencil.
1 x Leather sealant (A great option is Super Shene)
1 x Freezer paper
Step One This is the fun part -- scour your local flea markets and second hand stores for the perfect suitcase. The blog over at petitdesignco. has these helpful tips for shopping for vintage suitcases:
Vintage suitcases, especially the smaller hard back ones, are useful for carrying around  sewing projects, camera or music equipment, laptops, and of course make super cute carry on luggage. Here are 10 tips to help you in choosing vintage suitcases.
Check the outside for cracks and gouges (hard side) or tears (soft side.)

Avoid pieces with lots of scuffs. Big black scuffs are hard to get out. White pieces are especially hard to clean!

Inspect the latches to make sure they are in proper working order. Open and close them a few times.

Check to see that the suitcase closes properly all the way around.

Search for keys or combination codes. If you can't open the suitcase at the store, chances are you won't be able to open it once you get home.

Examine the "feet," often times these are broken, cracked, or have one or two missing.

Look over the outside to see if there are spots where the color has faded. Light fading is common but don't buy one that has prominent fade spots.

Open it up and inspect out the interior condition. Make sure zippers work, check for rips, and make sure the lining is still securely attached to the case.

If you can smell it before you even open it don't buy it! Be prepared to get a good whiff once you open the suitcase. Some pieces smell really gross, like cigarettes or who knows what! Most pieces have a slight smell of being cooped up. These can be aired out with an afternoon in the sun and some Febreeze.

Check the lining for stains. Light stains can be removed with a soapy rag, a spot carpet cleaner, or try a Tide To Go pen. Large dark stains are going to be nearly impossible to remove unless you're planning on gutting the whole lining, and that is a whole 'nother subject!
You can view the whole post here.
Step Two Clean and prime surface. Be wary of leather specific cleaners because they tend to leave a residue. For best results, use a clear (not creamy, i.e. Olay Hand Renewal) dish soap. Allow surface to dry completely and avoid oversaturation.
Step Three Ready your Preval Sprayer with your paint of choice. Acrylic paint is a great choice for leather surfaces and can be found at every craft and hobby story in the history of craft and hobby stores. On this particular projects we recommend picking 3 complimentary colors. (2 for ribbon effect and 1 for the fawn).
Step Four Tape off and apply your stencils in the following order:
Tape off thicker/border ribbon shape down the middle of the case about 2" wide. Perfectionists can enlist the help of a level. After the first layer of tape is been secured, use another layer of tape to tape freezer paper on both sides (to the left and the right). This will allow proper sweeping spraying motion. As always with the Preval Sprayer, lighter layers are ideal. Too thick of a layer can bubble, run, or bleed into the edges. Wait for section to dry before moving on to your animal stencil.

Secure fawn stencil with painters tape. Employ a similar method with the freezer paper above, giving you an edge/buffer where needed along the stencil edges. Allow to dry.

Once ribbon border is completely dry, tape off a centered 1" stripe (again, using freezer paper), leaving a ribbon border of ½" on each side. This ratio can be adjusted to fit your personal aesthetic.
Step Five Once all paint has dried, use a Leather salve to seal painted surfaces. For best results, buy enough sealant to cover all sides of case to keep color continuity. It's also a best practice to test the sealant before you use it, on a small less visible section incase it darkens or changes the texture against your liking,
Step Six Travel in style or use as an adorable decor accent!